Invention
Illuminated
Bicycle fender
The invention is a bicycle mudguard provided with a lighting device and a light-conducting material.

The innovative bicycle fender consists of 2 parts: the mudguard made of light-conducting and transparent material and the LEDs, which can be charged with a rechargeable battery via USB.
These LEDs ensure that the edge of the mudguard is illuminated. This means that the cyclist is clearly visible even in the dark and from a distance.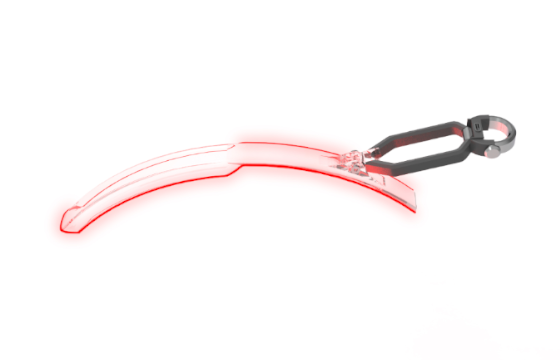 Lighting device
The lighting device consists of a battery and an LED that can be charged via a mini-USB plug. This means that no wiring or external power supply is necessary to make the mudguard light up.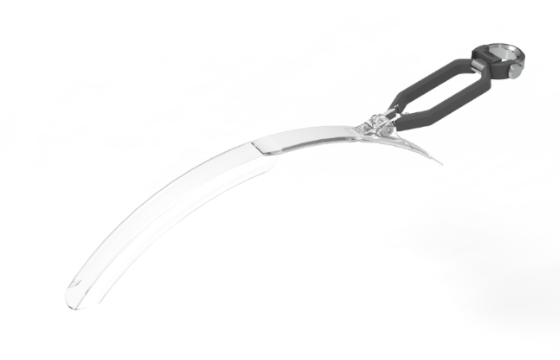 Light-conducting material
The material of the bike fender is partly made of light wave conducting and light transmitting PMMA. The light source of the lighting device transmits the light to the protective plate, which emits/radiates it to the surroundings.

Advantages
Benefits of the bicycle fender
USB charging of the lighting unit
A fully functional unit consisting of battery and LEDs that works without cables and without external power supply and is charged by means of a mini USB plug.

Detachable fastening
The mounting device of the mudguard is detachably attached. The mudguard is attached to the bicycle seat post.

Easy replacement of the light source
Replacing the energy sources/light sources can easily take place as the lighting device can be detached from the mudguard without any problems.

Higher visibility
The illuminated bicycle fender ensures good visibility of the cyclist even in darkness, twilight or other poor visibility conditions (e.g. heavy fog). The light-conducting material emits the light well and makes the mudguard shine clearly.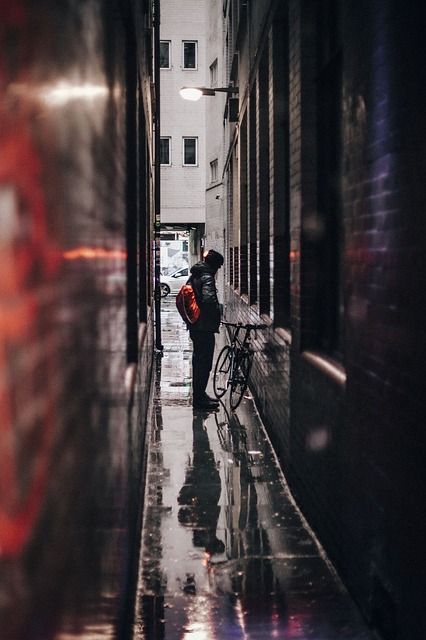 Functional model
Prototype
Property right
Utility model protection
Type of protection: GER Utility model protection
Reference number: 20 2022 000 434.6
Date of registration: 21.02.2022
Main claim:Bicycle mudguard, characterised in that it is partly made of light-conducting and light-transmitting material and a detachably attachable component is attached to it, in which a light source, a rechargeable battery and a USB charging device are integrated.
Are you curious about the invention?
Do you have any questions?
We will be happy to provide you with additional information material or clarify open questions with the inventor for you. Simply contact us and we will be happy to support you.

Contact us
JMW INNOVATION GMBH
jmw Innovation GmbH has been successfully implementing and marketing ideas at two locations (Salzburg/ Berlin) for over 20 years. Thanks to our many years of networking, our passion for new things and our experienced staff, we are now THE first port of call for new ideas in the German-speaking world.

Website
www.erfinderberatung.com
© 2022 All rights reserved.